Camran Khan, brightLET CEO shortlisted for NatWest Great British Awards 2017
20 September, 2017 | Imola Tuzson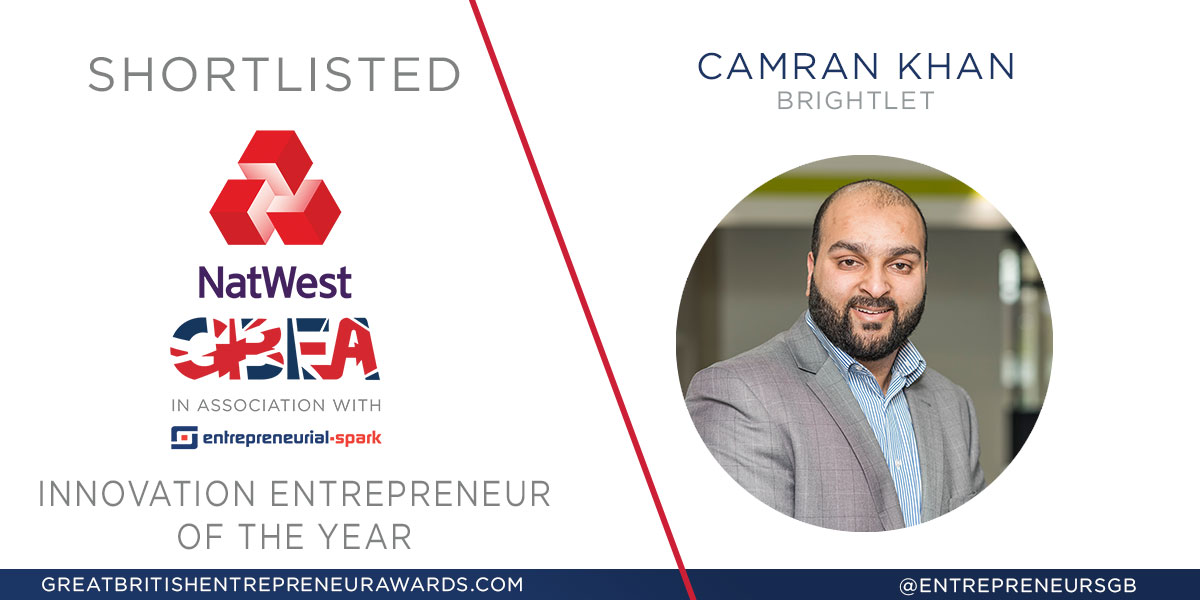 September 2017 - Camran Khan, Founder & CEO of brightLET, a cloud-based property management and lettings platform, is shortlisted for the 2017 NatWest Great British Entrepreneur Awards in the category of Innovation Entrepreneur of the Year. Camran Khan beat over 100 competitors to make the innovation entrepreneur category shortlist.
Founder & CEO, Camran Khan created brightLET in 2016 after a family illness suddenly left him in charge of a number of rental properties. He quickly realised that the day-to-day management of his rental properties was nearly impossible to maintain whilst having a full-time job, and after hiring an estate agent that just added another layer of frustration, Camran set out to create a platform that could support all of the tasks that go with property management in one place for himself, as well as other landlords with similar problems.
brightLET is a multi-user lettings solution for landlords who choose to manage their rental properties and tenancies online, directly with their tenants and tradespeople, without the need of a third party.
Now in its fifth year, the NatWest Great British Entrepreneur Awards has celebrated some amazing entrepreneurs over the years, many of whom are now household names. Past winners include David Buttress of Just Eat, Julie Deane of The Cambridge Satchel Company, James Watt of BrewDog and Alexander Solomou of TheLADBible Group.
NatWest's Entrepreneur team remarked, "Camran's experience in technology industries and visionary creativity spearhead this entrepreneur's achievements in business. brightLET is an award-winning cloud-based property management solution that is disrupting time-honoured practices with cutting edge technology and future-thinking."
Camran Khan, Founder & CEO of brightLET: "I feel honoured and privileged to have been shortlisted amongst the Innovation Entrepreneurs category. There are many talented and innovative entrepreneurs in UK, and this is a great platform to put some spotlight on that incredible talent existing and representing Great Britain."
Gordon Merrylees, Head of Entrepreneurship at NatWest said: "It is clear that entrepreneurial spirit is alive and well and NatWest is thrilled to be able to support these awards to celebrate success with the businesses that are the lifeblood of the UK Economy as they start, scale and succeed."
About brightLET
brightLET is an award-winning PropTech solution for landlords, tenants and tradespeople in one, simple to use, cloud-based platform. brightLET provides a multi-user access service which enables its users to advertise, find a property, communicate, and manage tenancies online without using a third party. For more information on brightLET and its services, please visit www.brightlet.com.
Media Contact
Imola Tuzson | Head of PR
imola@brightlet.com