A landlord's checklist for things to consider before buying a buy-to-let property
05 July, 2018 | Imola Tuzson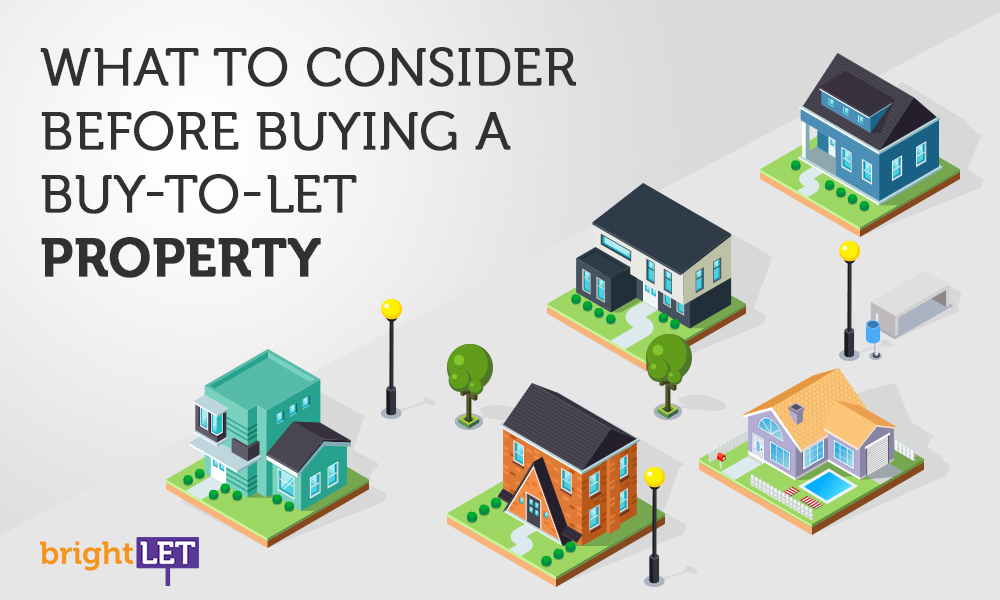 We asked you, our readers, on what topics you would like us to cover in our next blog post. After doing an internal poll, most of you wanted to know the top things to consider when buying a buy-to-let property. So, we have put together a checklist of the most important things to consider, as we believe they will help you in your property investment journey.
Evaluating Risk
Let's start with the most important step, evaluating risk! Will your property need renovation? Is it in an area that will attract good tenants? What are the nearby amenities? Are there tradespeople nearby that you can trust? It is essential to do your research on your target market before investing. Don't just invest because you have family or friends who have invested in those areas and made great returns. They may have identified a business model that works for them, for example, a HMO vs a family house let, local area investment vs distance area investment. What works for others, may not work for you!
Intention
Are you in it for the short-term or long-term? Are you looking to buy more BTL properties after the first one? Do you want to cash-buy at a cheaper rate, renovate the property to make it attractive, and sell it to make a healthy profit? Are you going to target a family, or allow for single room lets? Do not follow a trend, identify why you are doing this first, and it will make the whole process much easier.
Research before buying
What are the property prices in your local area vs other parts of the UK? And what are the reported trends in property value of the area that you are searching in? Are their plans for any future developments nearby? Try to get information on crime rates, leisure facilities, travel information, and school ratings in the area you plan to invest in, as these can help with attracting good tenants and property appreciation over time.
If you are buying a property with a buy-to-let mortgage, it is always a good idea to draw up a spreadsheet to compare mortgage rates, potential mortgage repayments, and what the average rents are for your target area. A good practise is to deduct 7-10% for maintenance & repairs, insurance costs, void periods, compliance certificates, and any other costs that are ongoing for your BTL journey every year. It's always better to be prepare for the worst possible scenario than hoping for the best, as this will help identify your potential return on investment.
Location Amenities and Area Growth
It should go without saying that good local amenities, such as schools, shops, entertainment, hospitals or pharmacies, leisure facilities, transport services, entertainment, and developments will attract good professional tenants that are more likely to keep your investment secure. In our Manchester being the next property hotspot blog post, we mentioned how Manchester being the next 'digital hub' will attract professional tenants from all over the country, causing the property prices to sky rocket.
Calculate your rental yields
We already mentioned this, but we want to reiterate - do your maths before investing to determine your expected return on investment (ROI). The calculations for a mortgaged property are different compared to a cash buy property. You could use the following formulas:
Cash buy rent yield
Let's say that the average rent outside of London is £650 per month, which totals to £7,800 over 12 months, and the property valuation/purchase price was £100,000. You divide Total Rent, over Property Valuation and multiply by 100 (£7,800 / £100,000) x 100 = 7.8% gross rent yield.
Note: If you are taking rental payments on a weekly basis, then your calculation would be: (£rent per week x 52 weeks) / purchase price x 100.
Mortgaged property rent yield
If you have given a 25% deposit on a property purchased for £100,000, your remaining debt is £75,000. Let's say you have taken a 30-year mortgage at an interest rate of 3.8% for a Repayment mortgage type, your expected monthly repayment would be £349.47. If you now calculate £349.47 by 12 months, it would give a total of £4,199.64. If you subtract £7,800 total rent by £4,199.64, and then follow the formula, your expected gross rent yield would be 3.6%.
Note: If you have factored in maintenance & repairs, void rent periods, and any other costs, then your rent yield for that financial tax year would be less. It might be a good idea to factor in your property being empty for 2 months out of the year, so you have a buffer.
Your business model
Before buying a property, you need a clear vision in what type of business model you would like to adopt, and the types of tenants that you are looking to target. When we say business model, we mean what type of properties will you let out? Single room lets, also known as HMO, holiday lets, serviced accommodation, student accommodation, or letting to a family? The different types of tenants to consider are working class tenants, students, family oriented, DSS and short-term tourists.
Regulations
Regulations, such as tax relief changes, health & safety, PRA rules, and energy standards are forever changing. It's important to keep on top of regulations to avoid any/all penalties.
Paying tax and stamp duty
A buy-to-let is a business, and you will have to pay tax. You have to stay on top of changes during your journey. This is Money give a good background on stamp duty, when purchasing a buy-to-let (click here).
Note: Speak to your accountant and ask for more information about a Special Purpose Vehicle (SPV) Limited Company setup.
brightLET is here to help
Remember that when letting your properties, landlords usually have two options; To use an agent, who will charge for every service, and a 10% management fee, or you can self-manage. It is not difficult to manage your property portfolio through the right technology.
We have already helped over 500 landlords with our solution that is designed by Landlords for landlords, and we have saved them an average of £800 per property, per year!
brightLET is the answer to all your property needs, enabling you to manages all property types from anywhere in the world! We provide a single destination that connects all the dots between listing a property, finding pre-screened professional tenants, managing the property on a day-to-day basis, communicating with both the tenant and tradesperson, tracking maintenance jobs, keeping you in-line with compliance and regulations, and reporting on how profitable your buy-to-let portfolio is.
We hope that this post helps clarify the important points to consider when buying-to-let. Are there any other points that you think are vital in planning for your BTL investment? We'd love to hear your thoughts.